As President of Dignity/Washington and on behalf of our entire D/WA family and Dignity/NOVA I want to thank the 26 people from our Community who attended DignityUSA's 50th Anniversary Conference in Chicago, IL over the 4th of July weekend.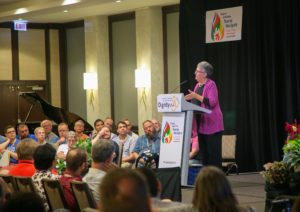 We joined over 300 people from across the US and this year from all over the world as representatives from all 6 continents and 20 nations came together as one global family of Catholics. DignityUSA is a major sponsor of the Global Network of Rainbow Catholics (GNRC). On Thursday, July 3 Dignity/USA with a substantial donation from Dignity/Washington sponsored a one-day Forum for both groups at our conference hotel in downtown Chicago. We heard stories from all over the globe of what LGBTQI Catholics are experiencing from the Church and their governments. Many delegates from the GNRC also stayed to attend our Conference.
We Came, We Led, We Celebrated!!!!
Reflections of Dignity/Washington & Dignity NOVA
At the Dignity/USA 50th Anniversary Conference
Dignity/Washington and NOVA members were everywhere: Martin Witchger, Linda Roberts and I (Daniel Barutta) as DignityUSA Board Members worked tirelessly behind the scenes in planning the conference and assisting in all sorts of tasks during the convening. Tom Yates did a fantastic job involving hours and hours of work researching, interviewing, editing and producing the 18-minute feature video showcasing our 50 years of advocacy and support. He was honored at the final banquet with a one-time 50th Anniversary Award and a Paxie (a gay Oscar) trophy.
It's a must see! Our members chaired important caucuses: Jim and Jason helped run the Dignity with Aging Caucus, Linda facilitated the Transgender Caucus, Chris Flow and Martin ran the Dignity Young Adult Caucus.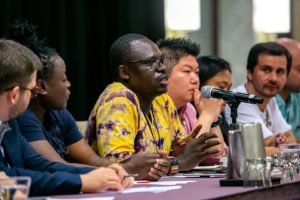 Two of our members – Jon Strickland and Doug Kilburg sang in the marvelous group choir. Our own Mary Hunt gave a passionate keynote address at the opening on how DignityUSA has weathered 50 years of advocacy with the Church and how important it is we continue to support our community for the next 50 years and beyond. AND I am thrilled to report we are still well represented on the Dignity USA National Board with the election of Rev. Ann Penick, re-election of Martin Witchger and the continued work of Linda Roberts as Treasurer.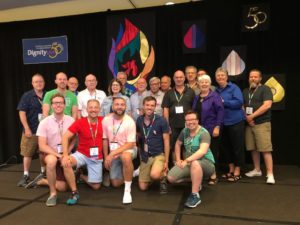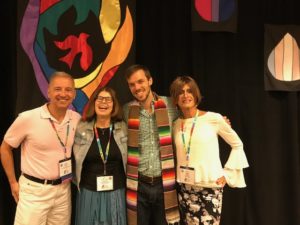 We prayed, we danced, we strategized about our future, we honored the past and looked forward to the many ways we can be a prophetic voice for change for The Catholic Church!
Tom's Piece on the 50th Anniversary Video (we should add the link to YouTube or our website)
Video Premier: In Our Own Words: 50 Years of DignityUSA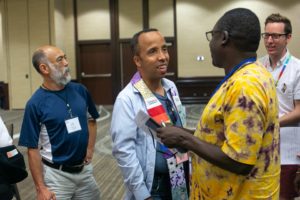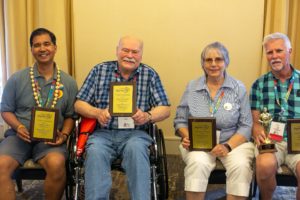 At the end June we completed the video In Our Own Words: 50 Years of DignityUSA. The video is available on YouTube and links to it are on both the Dignity Washington Community Forum and the DignityUSA FaceBook pages. We had almost ten hours of videotaped interviews which we distilled into an 18-minute video. We wanted to highlight the major events and crossroads of Dignity's history: the social and political background when Dignity was founded; the bold jump to become a lay-led organization when Fr. Patrick X. Nidorf was ordered to step away from Dignity; the expansion from strictly pastoral local ministries to include gay and lesbian rights advocacy; the struggles of Dignity through the 1980s with the HIV epidemic and Dignity's expulsion from Catholic spaces. And finally highlight our successes and looking forward Dignity's future role in the Church.