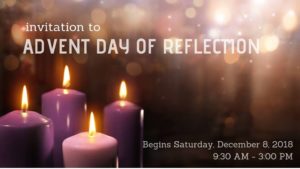 Harry Benjamin, from Dignity NOVA community, will lead us in a meditation on, and discussion of, the four primary Documents of the Second Vatican Council and how they can help us experience the love of Christ in a renewed way this Advent.  As always, there will be lots of time for prayer, reflection and discussion.  The day will conclude with a Mass to celebrate the Solemnity of the Immaculate Conception.
Light Breakfast and Lunch will be provided.
Register online Dignity@dignitywashington.org or through the Dignity Washington Facebook group.
Contact Jeff Vormund at jeffvomund@gmail.com or Denis Pringle at dppringle@juno.com to register or with questions or comments.