Re-founded in April 2012, the Young Adult Group is an active and dynamic part of the D/W community, participating in D/W Mass and social events, and including several members of the D/W Board of Directors. We also encompass and welcome young LGBT Catholics in DC who do not affiliate with D/W or attend D/W Masses.
After every Second Sunday of the month's Mass, young adult members gather for dinner right after the larger community social.  Newcomers from 17 to 35, including university students, are welcome to join us for food and fellowship!
In addition to Mass and dinner, we also gather for:
Networking with other LGBT Christians through the pan-denominational social group Queer For Christ
Community service
Movie nights, speakers, festivals, performances & other special events on LGBT spirituality in DC
Retreats with Dignity USA's Young Adult Caucus (Like their Facebook page and join their Facebook group)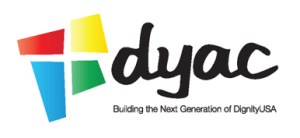 After liking D/W's Facebook page, if you are a young adult, join our Young Adult Facebook group!