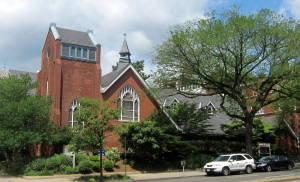 All are welcome at God's table!

Dignity Washington celebrates Mass at 6:00 PM Sunday at:
St Margaret's Episcopal Church
1820 Connecticut Ave, NW,
Washington, DC 20009
(Google Map)
St Margaret's Episcopal Church is just north of the intersection of Connecticut and Florida Avenues, at the corner of Bancroft and Connecticut avenue (approximately three blocks north of the Dupont Circle Metro Station – north exit – on the Red Line).
Sacramental Anointing is available during our Liturgy on the first Sunday of each month for those in need of physical, spiritual, or mental healing.
Mass is followed by a Social that includes refreshments and an opportunity to build community.
Sunday liturgies are interpreted in American Sign Language (ASL) on the 2nd and 4th Sunday of each month.
Dignity Washington is an inclusive community of faith. Congregants are invited to use whatever reverent term for God they are most comfortable with during Liturgy. We also welcome all who share and respect our beliefs in the sacramental nature of the Eucharist to participate fully in Holy Communion.
Other Dignity Liturgies
Dignity/Northern Virginia
Dignity/NoVa celebrates weekly Mass each Saturday at 6:30 PM, at Immanuel Church-on-the-Hill, 3606 Seminary Road, Alexandria, VA. For most current information, visit their website www.dignitynova.org for more information.