Army Chaplain 1st Lieutenant, and UU Minister the Rev. Chris Antal on The Sacrament of Resistance


Resistance is what love looks like in the face of U.S. policies of global military supremacy, "preemptive war" and "defensive strikes" by lethal drones.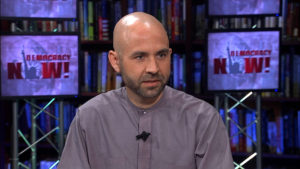 The Rev. Chris J. Antal is the called and settled minister of the Unitarian Universalist Congregation in Rock Tavern, New York. Prior to that he was a chaplain in the U.S. Army and served one tour in Afghanistan. While there he witnessed armed drones and since then he has joined the growing number of religious voices resisting U.S. drone policy. His ministry has been featured in Disarmament Times and Sojourners and his public resignation in protest was reported on Democracy Now!, in Army Times, and on ABC news.
He is active in the D.C. based Interfaith Working Group on Drone Warfare and joined their delegation as the Unitarian Universalist Representative for Disarmament, Peace and Security Advocacy at a recent meeting on drone killing with staff members of the National Security Council.