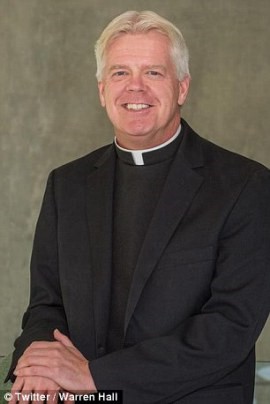 Dignity/Washington will be pleased to welcome Warren R. Hall as our guest speaker. His presentation, titled "Sensus Fidelium: What God's People Believe," will take place at St. Margaret's Episcopal Church (1820 Connecticut Avenue, NW DC 20009), January 29 at 7:15 pm, immediately following the 6:00 pm Mass.
Warren R. Hall, a native of Jersey City, NJ was ordained as a priest of the Roman Catholic Archdiocese of Newark in 1989. He attended Seton Hall University earning BA, Master of Divinity, and Master of Theology Degrees.
In May 2015 Warren Hall was removed from Seton Hall University by Newark Archbishop John Myers for his support of LGBT Equality. Hall subsequently came out as gay. On August 31, 2016, following a year of ministry as Parochial Vicar of St. Peter and Paul Church in Hoboken, Archbishop Myers suspended Warren Hall from priestly ministry, for his continued involvement with the LGBT community, and for "confusing the faithful".